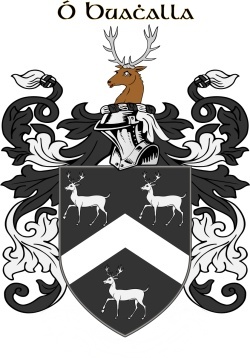 Get this crest printed on...
BUCKLEY Family History
Ó Buachalla, from 'buachaill' meaning 'boy': anglcised early as O Boughelly and later as Buckley.
Patrick Woulfe in his 'Sloinnte Gaedheal is Gall' ('Irish Names and Surnames' 1923) says that there is also a rare Mayo surname, Ó Bachlaigh, anglicised as Bockley and Buckley, from 'bachlach' or 'husbandman'.
Ó Buachalla was a sept originally of Co Offaly in the Middle Ages. There was also a sept in north east Co Cork at the same time. Both were dispersed by the Cambro-Normans.
Woulfe says that in the 16th century Buckley was peculiar to Cork, Tipperary and Offaly.
By the time of Griffith's 'Valuation' (1848-60) most households were in Cos Cork (941) Kerry (139) and Tipperary (104).
Buckley was the 99th most numerous name in the Registrar General's Report of the number of births of that year in Ireland.
Buckley is also an English name, the Barons Wrenbury in Cheshire and landed families in Castle Gorford et al. The name means 'buck (he-goat) and lea (clearing/wood), or in Devon: 'bow' + 'cliff'.