0 Vienna Diaspora around the world
Our in-person family gatherings
Ireland's President Higgins family message
Our TEDx talk about family gatherings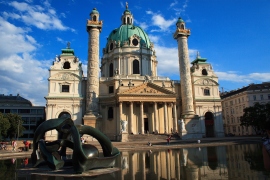 Karlskirche,_Vienna - By John Menard from Phoenix, USA (Karlskirche - Vienna Uploaded by PDTillman)
[CC-BY-SA-2.0], via Wikimedia Commons
Palais_Ferstl_Vienna_June_2006_002 - By Gryffindor (Own work)
[GFDL, CC-BY-SA-3.0 or CC-BY-2.5], via Wikimedia Commons
Schönbrunn_palace - By Simon Matzinger (Own work)
[CC-BY-SA-3.0], via Wikimedia Commons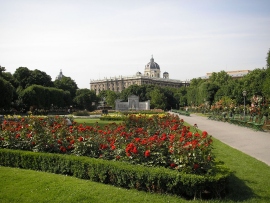 Volksgarten_Vienna_June_2006_300 - By Gryffindor (Own work)
[GFDL, CC-BY-SA-3.0 or CC-BY-2.5], via Wikimedia Commons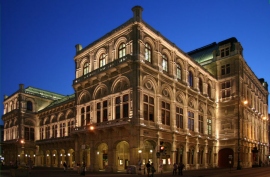 Wiener_Staatsoper_abend - By JP (Own work)
[GFDL or CC-BY-SA-3.0], via Wikimedia Commons
What does the name of the region mean?
The name Vienna, in German it is Wien, is thought to have a Celtic root, and people agree that the most likely one is the word "windo" which means bright or fair. There are some arguments about the precise heritage of the name, as there are also some other minor theories – but the main one is the Celtic root, which also makes sense as many places in Europe have names that come from Celtic roots.
What is the region famous for?
Vienna is famous for a variety of things – as one could expect of the biggest city, and capital, of Austria. Around 1.8 million people live in the city itself, and if you also count the whole metropolitan area, you get around 2.6 million people. Vienna is not just a city, but also one of the regions of Austria.
Vienna is often called the "City of Music" because people from Vienna have left such an important mark on music, and Vienna itself also has an impressive music history.
The city was once the centre for the famous Habsburg court, and in general, Vienna has so much history to offer that you most likely won't know where to start.
One thing that also is well known about the city of Vienna is that the old historic centre has been put on the UNESCO World Heritage list, which of course attracts many tourists every year.
What should you see and do while you are in Vienna?
There is an incredible amount of things to do in Vienna – even in a week you will not be able to see everything – unless you rush through everything and are a genius at planning itineraries. Here are some of the highlights.
Hofburg Palace
There is not much left of the original palace which is a few hundred years old. The palace is an immense collection of various buildings, but originally it started out as a typical medieval castle. The only way to see this place properly and learn about it without getting to confused is to take a guided tour – the tour guides are excellent and the tours are available in a variety of languages. It is a good place to learn about the history of Vienna as the palace and its changes were an important part of that history.
Vienna Natural History Museum
This museum is not only interesting if you would like to know more about how the area around Vienna has developed over the aeons. It is also the home of the famous Venus of Willendorf, which is around 24,000 years old and one of the most famous artefacts that have ever been found in Austria. A good place to go to if you like museums in general is the famous museum quarter in which you can find a great variety of museums that can keep you busy for a few days if you want to have a good look at all of them.
Vienna and death
The people of Vienna have a fascination with death that you most likely will not find in many other cities in Europe. The central cemetery is a rather popular place, and you shouldn't feel bad about going for a walk there even if you don't know anybody who has been buried there. Many people do so. There even is a museum in which you can look at a variety of coffins and learn more about mortuary science, its name is "Bestattungsmuseum". If you feel like learning more about what happens after someone is dead, in regards to the more practical side, then Vienna is definitely the place to go to. And afterwards you can have a nice coffee in one of the many cafes in Vienna.
Balls and festivals
Vienna is known for its famous ball season around the carnival time. If you happen to be in Vienna during that season, then don't miss out on visiting one or the other of the fancy balls. During summer, there is also a lot to do. There are festivals for all kinds of people and interests, so check out the local listings, and if you are interested in one of the bigger and more popular festivals, then it pays off to book the tickets in advance to save money, and to make sure that you don't miss out on the tickets.
St. Stephen's Cathedral
While there are many interesting churches to be found in Vienna, e.g. the Kapuzinerkirche, the Jesuitenkirche, and the old synagogue, the one you should not miss is the cathedral of Vienna. The oldest surviving parts of the church are from the 13th century, but the original church was a lot older. This cathedral is a great example of how different styles were used during the centuries to restore parts of the cathedral or to add on new parts. Guided tours are available and you can also take part in the masses.
Austrian National library
This library not only has a collection of books that will make book lovers swoon and drool, but it is also the first library in the world that used card catalogues to organise and keep track of their books.
Parliament
The parliament building can only be visited inside when the parliament is not using it (but we all know politicians, so you shouldn't worry too much about not being able to go in). The outside, which reminds of a Greek temple, can be admired and looked at during all times though, and it's definitely worth dropping by.