0 Tyrol Diaspora around the world
Our in-person family gatherings
Ireland's President Higgins family message
Our TEDx talk about family gatherings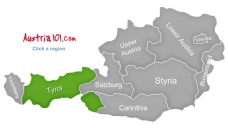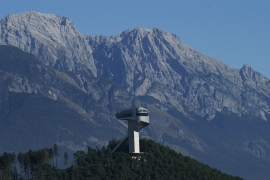 BergiselInnsbruck2 - By böhringer friedrich (Own work)
[CC-BY-SA-2.5], via Wikimedia Commons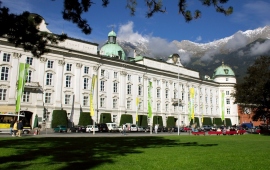 Hofburg,_Innsbruck - By QEDquid (File:Hofburg Innsbruck Austria.jpg)
[CC-BY-SA-3.0], via Wikimedia Commons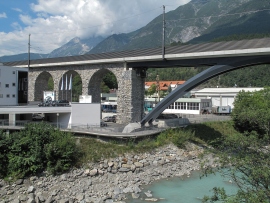 Landeck,_viadukt_in_de_stad_foto1_2012-08-14_12.39 - By Michielverbeek (Own work)
[CC-BY-SA-3.0], via Wikimedia Commons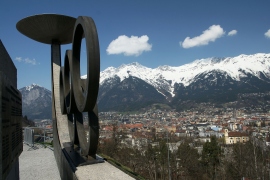 Olympiaringe_Innsbruck_3 - By böhringer friedrich (Own work)
[CC-BY-SA-2.5], via Wikimedia Commons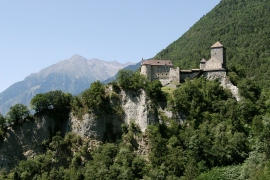 Tirol_Schloss_01 – By Herbert Ortner (Own work)
[CC-BY-SA-3.0-at], via Wikimedia Commons
What does the name of the region mean?
In the 12th century, Tyrol was originally spelt "Tirale", and it is assumed that this comes from the root "tir" which also exists in languages like Latin and Old Irish. The translation for "tir" would be "area, ground, floor", and there are varying theories about the actual origin of the name.
What is the region famous for?
Tyrol is a famous region in Austria because visiting Tyrol is very much like stepping into a fairy tale. The region is filled with stereotypes: Lederhosen and dirndls, lots of people drinking beer, traditional festivals, folklore, romantic lakes, castles, and plenty of lovely landscapes. However, because of this, and the famous winter ski resorts, the region's roads are very busy during the main seasons (winter for skiing, and summer for hiking). So if you can, it might be better if you can travel in spring or fall to avoid the crowds. With a bit of planning, you can get just as much good weather as the normal tourist.
What should you see and do while you are in Tyrol?
St. Johann
This little town with the name of St. Johann is a great place if you don't like cars. Every day, from 10am to 6pm, the centre of the town is for pedestrians only, and there is also a fantastic network of paths for walking and biking. The town has a strong focus on activities that involve walking and biking, and many of the accommodation providers will also give bikes to you for free during your stay – this town definitely makes it easy to explore the region in an environmentally friendly and active way. You can either walk easy walks or opt for something more challenging. All the facilities you might need during your stay are also within easy walking distance.
St. Anton
For many people, St. Anton is THE ski resort to go to in Austria. On one hand this shows the quality of the place, but on the other hand this also means that there will be a lot of other people who also want to enjoy the area. The Orient Express also passes through St. Anton – which adds another attraction for tourists. If you really love skiing, then this is one of the places you should put on your list – but don't expect to be alone.
Innsbruck
Innsbruck is the capital of Tyrol, and has been so for a few centuries. Like many other places in Tyrol, Innsbruck is a great place if you are interested in winter sports as the city is surrounded by the Alps and many ski resorts can easily be accessed from Innsbruck. Innsbruck, however, also has a very interesting history, and you can learn more about it by visiting the museums within the city. There are also some historic buildings that might be of interest to you, like the Wiltener Basilica, the Saint Jacob Cathedral, Castle Ambras, the Triumphal Arch, and the St. Anna Column.
Hall in Tirol
Hall in Tirol is not far from Innsbruck and in a scenic location (but then most places in Tyrol are in scenic locations). Some of the sights in Hall in Tirol are the Hall Mint Museum, Castle Hasegg from the 13th century, the town hall (which is also very popular for weddings), and the old town centre in general as some of the buildings date back several hundred years and are a testament to the history of the town.
Ischgl
While still quite busy, Ischgl is an alternative for people who think that St. Anton is too busy a ski resort.
Kals
If you would like to visit the national park Hohe Tauern, and if you are interested in climbing Austria's highest mountain (Grossglockner), then Kals is a good base for this. The village is right on the border of the national park, and has easy access to the mountains. Don't attempt to climb the mountain if you have no experience with climbing on ice.
Pinswang
Pinswang is a very small, and rather quiet place. It is also quite an old place and people have been living in this area since ancient times. Pinswang is a great place if you would like to climb some mountains but prefer to not be surrounded by thousands of tourists. You can also experience a more authentic Austrian community in Pinswang.