0 Lower Austria Diaspora around the world
Our in-person family gatherings
Ireland's President Higgins family message
Our TEDx talk about family gatherings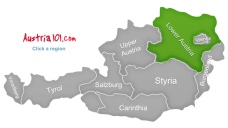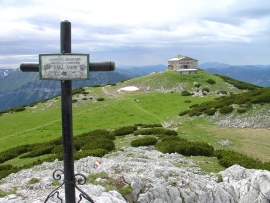 Habsburghaus,_Rax - By Thomas Wenrich = karfas (Own work)
[GFDL or CC-BY-SA-3.0], via Wikimedia Commons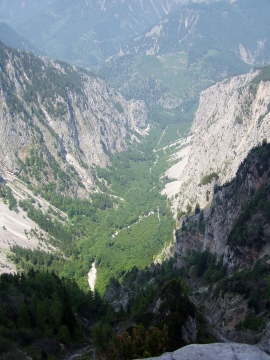 Höllental - By de:Benutzer:Griensteidl (Own work)
[GFDL or CC-BY-SA-3.0], via Wikimedia Commons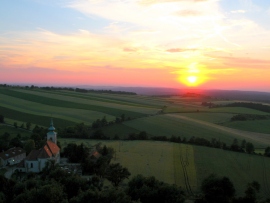 Leiser_Berge_Oberleis_01_2008 - By JOADL (Own work)
[GFDL or CC-BY-SA-3.0-2.5-2.0-1.0], via Wikimedia Commons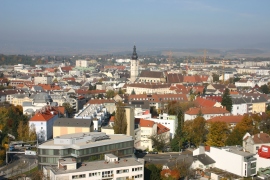 Sankt_Poelten – Public Domain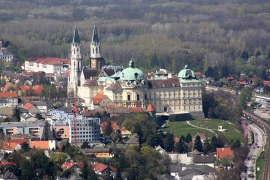 StiftKlosterneuburg_b - By Bwag (Own work)
[CC-BY-SA-3.0], via Wikimedia Commons
What does the name of the region mean?
The name Lower Austria does not really refer to its location on the map. It is not the lowest part of Austria on the map but the North-easternmost region in Austria. The name comes from its location in relation to the Danube River: it is down-stream of the river, i.e. below.
What is the region famous for?
Over 1,6 million people live in Austria's largest region. Historically speaking, Lower Austria was a central region of Austria, and is often called the "cradle of Austria's history" because of its importance in the Austrian history. The region has four rather distinctive areas: the Mostviertel, which is dominated by mountains up to two thousand meters. The Weinvirtel is a granite plateau (most of it). Then there is the Weinviertel which descends down to the Danube, and then you have the Industrieviertel, which is often just called the quarter below the Wienerwald".
550 fortresses and castles speak of how important it was that this region of Austria was well protected in the past – and it turns this region into a paradise for people who enjoy history and culture from a variety of centuries.
What should you see and do while you are in Lower Austria?
There are many interesting places you can visit in Lower Austria – there are great landscapes, castles, fortresses, ruins, and lovely villages everywhere. It is not always easy to make a decision about how to divide your time when you are in that region of Austria, but here are some highlight of Lower Austria:
St. Pölten
This is a city with about 50,000 inhabitants and while it is not known as a touristy place, it is a good alternative to other places in Lower Austria. The lack of many tourists will make it easier for you to see a more unspoilt part of Lower Austria, i.e. a more authentic experience of life in Austria. Some interesting things you could do in St. Pölten are a visit of the weekly market that takes place in front of the cathedral (which is of course also a sight you should not miss) and a trip to the lakes that are actually the remainder of a gravel mine.
Amstetten
This is a rather small village, and ideal if you would like to take some steps back in time as this is a village in which you can't just go online to find out about events. You actually have to go to the town hall to find out about what is happening in the village. This is a nice change if you would like to take a holiday from always planning your whole day with your smart phone and websites.
Melk
Melk has only around 5,000 inhabitants, but that does not turn it into a less exciting place for people who enjoy culture. One of the highlights in Melk is the Melk Benedictine Abbey which was reconstructed in the early 18th century (but is originally older than that). The Abbey is richly decorated and within the walls of it you can learn more about its history. The Abbey Church is also part of the abbey complex and the most impressive part of it.
Other places of interest in Melk are the town hall from the 16th century, and the "Haus am Stein", which was built in the 15th century, and is the oldest surviving building from that time.
There are guided English tours of Melk if you would like to learn more about the town by listening to a local who knows more than a travel brochure/book. There are also options for cruises on the Danube river.
Krems
Krems is one of the places in Lower Austria which are famous for their wines. In addition to some historical sights, you can also visit vineyards and test some of the lovely wines.
Perchtoldsdorf
This village is also known for its fine wine, but it also has some quite old historical sights like a tower and the town hall which both come from the 15th century. There is also a church close to the market place, and the church was built during the 13th century. The castle of Perchtoldsdorf is even older: it is from the 11th century, and also not far away from the market place. It definitely is a lovely village to explore, and then finish the day with a glass of fine wine.
Semmering
Semmering is mainly known for its resorts. It is easily accessible, and this led to the building of massive hotels – if you go there, you will see why. The combination of landscapes, resorts, and easy accessibility are hard to resist. Don't miss a visit to the Semmering Railway which is on the UNESCO world heritage list.